Tandem Air Vacuums
When you combine the best of both worlds you reach a level of clean you didn't even know existed. The revolutionary Tandem Air Technology utilizes both the clean air and direct air motor systems – in tandem – to create the first and only vacuum cleaner to provide exceptional carpet cleaning, advanced filtration and the convenience of powerful on-board tools in one machine. Mind blown!
But That's Not All
Like all Simplicity vacuums, Tandem Air vacuums are built to last with metal where it matters most. Plus, it's coupled with a sleek design that not only looks good, but maneuvers even better. The Tandem Air Technology is exclusive to Simplicity Synergy and Synchrony uprights and some models of the new Wonder canisters. These beauties are waiting for a test drive. You won't believe what they can do!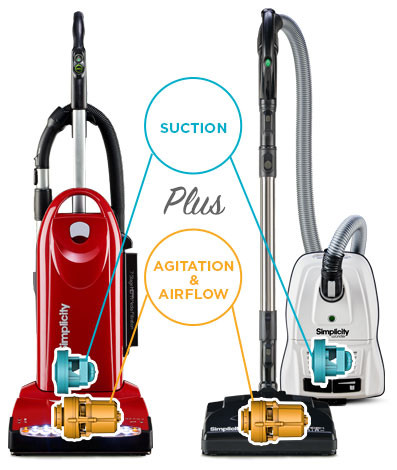 Fetch Pet Vacuum

Fido and Fluffy have met their match.
Model #: S30PET
Show Details
Synchrony Deluxe

Vacuuming isn't a chore with the Synchrony Deluxe.
Model #: S30D
Show Details